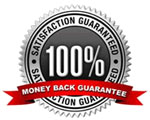 Money Back Guarantee
JOG A DOG maintains a no-worry, hassle-free, thirty (30) day money back guarentee. Return any item within the first thirty (30) days of receiving the product and we will refund 100% of the purchase price. We do not charge restocking or return fees. Likewise, the item does not need to be returned in its original packaging. Returned item(s) must be returned in same condition in which they were received. All actual shipping expenses incurred by JOG A DOG are not refundable and must be paid in full to receive 100% refund of the actual purchase price. If you receive a damaged or defective item, we will incur shipping costs both ways at our expense. Please read the instructions below for damaged shipments.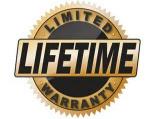 Limited Lifetime Warranty
JOG A DOG will replace without charge ANY part which our examination proves to be defective in material or workmanship. This Limited Warranty applies to the product components while the product remains in the possession of the original purchaser and is NOT transferable.
This Limited Warranty applies only to the cost of comparable new or rebuilt replacement parts and does not include labor, freight or handling charges associated there with. In any event, JOG A DOG's total liability, under all circumstances, shall not exceed the full purchase price of this unit.
This limited warranty does not cover accessory items (timer, lift actuator), damage or equipment failure resulting from or caused by improper use, improper assembly or installation, failure to follow instructions and warnings in owner's manual, accident, misuse, abuse, unauthorized modification or wiring not in compliance with electrical codes.
This Limited Warranty becomes VALID ONLY if this Warranty Registration Form is completely filled in, signed by the original purchaser and mailed to JOG A DOG at the address set forth WITHIN 20 DAYS of purchaser's receipt of the Product.
This Limited Warranty is in lieu of all warrantees, express or implied, and in lieu of all other obligations or liabilities on the part of JOG A DOG. Under no circumstances shall JOG A DOG be liable by virtue of this limited warranty or for damage to any person or property whatsoever for any SPECIAL, INDIRECT, INCIDENTAL, SECONDARY or CONSEQUENTIAL losses, damages or expenses in connection with any JOG A DOG product.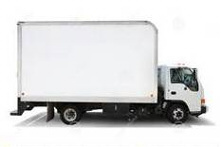 Standard Delivery Services

Our standard delivery service includes delivery to any residence or business with lift-gate service. This includes bringing the product to your home or business (if accessible) and removing the item from the truck. In most instances this includes delivering the item to your front door (carrier discretion), or garage (if easily accessible). For those requiring assistance with in-home delivery and packaging removal, we offer those services for an additional fee.

Please note: Delivery services requested by customer in addition to standard delivery services will be paid by the customer, including but not limited to: redelivery, inside delivery, special trucks, specified day/time delivery, wait times, change of delivery address, etc. Missed appointments may require additional delivery charges in which case the customer is responsible to pay those charges.
Inside Delivery Fee ($35.00 Additional Charge)

With this option, the carrier we will bring the item into your home or business. This is commonly referred to as a "threshold" delivery. Meaning the carrier we will bring them item just past the threshold of your front door and leave the item there for you. This delivery option is best if you are concerned with inclement weather issues, or live in a townhouse where there might be stairs leading to your front door.
Room of Choice Fee ($110.00 Additional Charge)

With room of choice delivery, the carrier will bring your item to any room in your home or business (first floor only). This option also includes unpacking and debris removal services. This is a great option, especially if you need help getting the unit into your house and positioned for you. This delivery option still gives you the opportunity to setup the equipment yourself.
Special Delivery Fees ($95.00 Additional Charge)

All deliveries are scheduled within normal business hours, which is generally from 9am - 5pm Monday through Friday. Any delivery request outside the carrier's normal business hours to include a Saturday delivery request is considered a special delivery and is subject to an additional charge of $95.00.
Delivery Times

Please be aware that we cannot ship via traditional services like UPS or FedEx. Our shipments weigh between 140lbs and 320lbs and must be shipped via freight trucking companies. Once shipped, delivery typically takes five (5) business days or less. However, all shipping and delivery quotes are "approximate" lead times. We cannot fully guarantee delivery dates as we utilize the services of reputable independent freight companies and occasionally there may be brief transit delays.
Receiving Deliveries
With all of our deliveries someone over 18 will need to be home to receive and sign for the delivery. All deliveries will be setup in advance, which will be arranged via a phone call directly from the delivery company. All deliveries are scheduled within normal business hours, which is generally 9am - 5pm Monday through Friday.
Shipping Carton Size
Please note the size, weight and dimension of your shipment so you are prepared to receive it. Each treadmill is bolted to a pallet to prevent damge during shipping. The pallet is enclosed in a cardboard structure reinforced with a wooden frame. All treadmills are fully assembled with the exception of the side guard rails that are collapsed for shipping.
JOG A DOG Model DC7
Shipping Weight: 320 lbs.
Package Length: 84"
Package Width: 30"
Package Height: 28"
JOG A DOG Model DC6
Shipping Weight: 220 lbs.
Package Length: 72"
Package Width: 24"
Package Height: 24"
JOG A DOG Model DC5
Shipping Weight: 140 lbs.

Package Length: 64"
Package Width: 20"
Package Height 24"
JOG A DOG Model DC4
Shipping Weight: 140 lbs.
Package Length: 52"
Package Width: 18"
Package Height: 24"
Damaged Shipment

Please be sure to note any damage or shortage on the delivery receipt before signing for a shipment. Title of goods passes to the purchaser when a shipment is accepted for transportation by the carrier. When you sign for a shipment, you are indicating that all cartons shown on the receipt are present and in good condition. If this is not true, be sure to note the discrepancy and have the driver initial it.

Open all cartons immediately. Do not discard the cartons until you know the contents are in good condition. Please contact us immediately if the item is an assembled piece or if the damage involves a part that can't be replaced.

Occasionally, a product may be scratched or damaged during shipping. Customers should accept the product and note any visible damage to the freight delivery receipt. Since parts are interchangeable, we will replace any damaged part with a factory original new part when freight delivery receipt is properly noted. Customers should adhere to freight carriers' freight claim protocol and cooperate with such policies to facilitate the processing of the claim. If possible, take pictures and forward them to us as soon as possible.

If physical product damage is not seen until opening the carton, the customer should contact us immediately within 24 hours so we can request a "concealed freight damage inspection." Please take pictures detailing the damage and forward them to us as soon as possible.

Please Note: If a customer relocates a product to a different location than the delivery address on the bill of lading, prior to a "concealed freight damage inspection," the freight company will not accept responsibility for freight damage and the customer shall nullify their rights to a freight damage claim. If a customer refuses delivery due to excessive freight damage, JOG A DOG shall have the right to re-ship the identical product at no additional cost to customer, using the same or a different carrier at JOG A DOG's discretion.