JOG A DOG Model DC5
The five feet, one-hundred pound, treadmill provides a portable exercise solution for all breeds of medium size and smaller. The side guardrails are detachable, allowing for easy transport and storage. Each treadmill is built to an eleven degree angle, the optimum angle for a whole body workout. The slope can be easily adjusted using the rear elevation supports provided.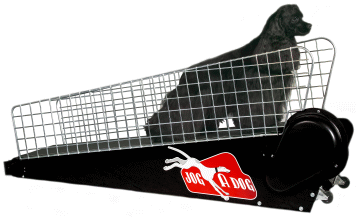 Model DC5
Machine weight 100 lbs.
Tread length 60" - Tread width 14"
Infinite variable speed from 0-10 MPH

PWM 1/3 H.P. Whisper Quiet . . . . . . . . .$ 1,475
Accessory items for the JOG A DOG, model DC5, include Wheels ($24.25), Gaiting Bar ($19.95) and Control Timer ($34.95).
NEW! Whisper Quiet Operation
Pulse Width Modulation (PWM) rectifies alternating current from your wall outlet to nearly pure direct current (DC) used by the motor. This higher pure DC voltage results in greater horse power. Therefore, a smaller motor can be utilized with increased performance and efficiency. Most notably, The PWM units are EXTREMELY QUIET!
Remote Control Speed Dial Enables Easy Learning
All models are equipped with a variable speed remote control. Unique turn dial allows for the smoothest speed changes possible. Speed can be adjusted quickly or in increments slower than .1 MPH.
JOG A DOG QUALITY
Designed with the input of veterinarians, physical therapists, breeders and engineers, JOG A DOG is truly the best exercise system available for the most discriminating consumer.
Proudly Made in the USA
SINCE 1972
Components - JOG A DOG uses only the finest industrial and commercial grade components throughout. All materials are of the highest quality and are designed to withstand the rigors of continuous operation.
Maintenance Free - Each JOG A DOG unit is engineered to be free from maintenance and impervious to muddy paws, dog hair, drool and feces.
Unitized Construction -The base of each machine is fabricated from a single piece of carbon steel. An industrial grade powder coating is applied throughout and baked to provide a long lasting, rust resistant, finish.
Jogging Surface - The easy-grip jogging surface is comfortable for the dog's pads and is made of the finest solid woven endless belting. The rollers can be removed in seconds to allow for easy cleaning of the treadmill belt underside and deck surface.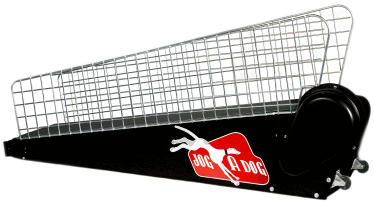 Frame: Unibody construction


Electric: 110v VAC or 220 VAC


Unit Weight: 100 lbs.


Motor: Industrial DC continuous duty.


Control: Commercial on/off with speed dial


Maintenance: NONE


Dimensions: 60"x17"x16" (with sides collapsed)


Tread Dimensions: 60" x 14"


Warranty: Limited lifetime warranty on all parts


Guarantee: 30 day money back guarantee